"Dedicated to the preservation and enjoyment of skiing with wooden skis"
---
Polish Wooden Skis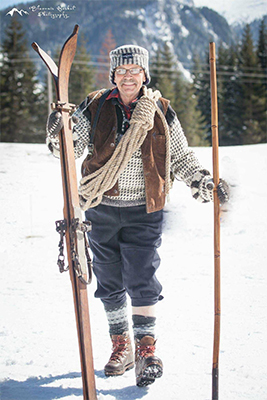 Thanks to Piotr Jasienski for providing us with this great information on wooden skis. Piotr is shown here dressed for a vintage ski event in Poland.
Poland is a medium-sized European country, actually a lowland country, as the mountains cover less than 5% of the country's area. Despite this, the first pair of skis made in Poland was made in 1888 by our pioneer Stanislaw Barabasz. Serial skis were made in the region of Zakopane as early as 1900-1905. Before the Second World War, a dozen or so workshops were operating in Zakopane, which produced skis. During the war, possession of skis was punishable by death and therefore very few skis survived. Below are photos of the signed ski tips. Photos signed with the name and surname of the manufacturer, or the name of the plant (especially after the war, almost no private ones), years of production (sometimes approximate) and location.
Check out Piotr's research on the history of ski bindings. Use Google translate to convert to your language from Polish.
https://skimagazyn.pl/2020/03/18/dzieje-wiazan-czesc-i/
https://skimagazyn.pl/2020/03/19/dzieje-wiazan-czesc-ii/


Eranciszek BUJAK 1929-1959 ZAKOPANE emblem



J. W. BRACH J.LIPOWSKI 1935-1939 ZAKOPANE foto. Wojciech Cyganek



Franciszek BUJAK 1929-1959 ZAKOPANE



Adolf SERBENSKI 1934-1939
MSZANA DOLNA



Adolf SERBENSKI 1934-1939



Franciszek BUJAK 1929-1959 ZAKOPANE



SCHIELE 1923-1948 ZAKOPANE
Brethren Aleksander i Kazimierz



Franciszek BUJAK 1929-1959 ZAKOPANE



Jozef FADEN 1928-1950 ZAKOPANE



PROCHASKA ca. 1935 BIELSKO



PROCHASKA SPOTR BIELITZ ca. 1938-39



SPORT PROCHASKA ca. 1935 BIELSKO



WYTWORNIA NART ZAKOPANE NARTY JUBILEUSZOWE 1957



WYTWORNIA NART ZAKOPANE 1950-1969



WYTWORNIA NART ZAKOPANE 1965-69


Adolf Serbenski with employed workers of the Serbenski family
---
Back to Home - Back to Ski Manufacturer Page
© Copyright 2020, Greg Fangel, www.woodenskis.com