Comments
11/9/08 - Kudos!
I love this site! It reminds me of all the great old equipment my Norwegian parents kept in our garage that my friends and I used when it snowed. I am just sick when I think of those things having disappeared along the way.
I will order from you guys some time this season, I promise!.....Ian, Washington, DC
_ _ _ _ _ _ _ _ _ _
11/8/08 - Hello,

We are two British who are interested in making our own wooden cross country skis. We cannot travel to you but have access to a saw mill. We aquired an ash log each. (straight knotless tree. 10" diameter and 7' long. ) We would like to know what dimensions the blanks are that you use at the ski making course. We think we should be able to get a timber yard to cut them down to rough size.

We want to be able to ski in the Scottish forests this new year. We have been suggested light touring skis. We do not want to spoil the authentic look of wooden skis by adding modern bindings. What bindings would you suggest. Any advice would be appreciated.

We are very thankful to have found your website, it has provided us with much needed information.

Thankyou very much for your help........Tom C, Great Britain
Tom,
The blank should be about 7 ft. long and about 3-4" wide, depending on how wide you want the skis. The thickness at the binding would be 1-1.25" thick. You can make straight sided skis as shown below or have a decorative, Nansen-style profile to your skis. I would suggest leather bindings as shown for your skis........Greg


Nansen-style ski profile

Typical wooden laminated ski profile

CA Lund leather and canvas binding from the 1950s
_ _ _ _ _ _ _ _ _ _
11/7/08 - Check out my new skis at http://outsideinmi.blogspot.com/....Jeff
_ _ _ _ _ _ _ _ _ _
9/12/08 - I just had a question if you new what the value would be for a set of Shafer cross country ski from Germany in the mid 70's. think there about 200mm. Thanks....Chris
I don't have any idea how much they would be worth......Greg
_ _ _ _ _ _ _ _ _ _
9/10/08 - I am very interested in making wooden skis for my kids but live in Idaho and unfortunately won't have the opportunity to attend a class at North House Folk School. Is there an instruction video or booklet to help me make them at home?....Julie
Plans are in "Fine Woodworking Magazine", from November/December 1981. Issue #31. You may find a copy on Ebay. Amazon.com sells a book on wood bending and that book has two chapters on cross country skis. It's called "Bending Wood (Fine Woodworking On)
Fine Woodworking Editors" by the Taunton Press...Greg
_ _ _ _ _ _ _ _ _ _
4/21/08 - I just found your site by googling wooden skis and saw that you also have a Wooden Ski Rendezvous! We have put on our event for 8 years now as an educational and membership drive for the Backcountry Skiers Alliance
www.backcountryalliance.org and speciifically for the Steamboat Springs area and the Routt National Forest. Our group works with public land managers and other user groups to create and preserve winter non-motorized use areas.....Leslie Lovejoy, Director Friends of the Routt Backcountry

_ _ _ _ _ _ _ _ _ _
4/1/08 - Greg, The skis arrived today. The packaging was excellent, and the skis blew me away!!! Thanks again for the prompt shipping and the beautiful skis.
Take care, J.T.........Puyallup, Washington
_ _ _ _ _ _ _ _ _ _
3/25/08 - Dear Greg, Thank you so much for the fabulous skis and for your flexibility in payment for them. They are gorgeous. I am putting them away as a Christmas present for my husband, who has been skiing on wooden skis for almost 50 years now, and who raced in his younger years in many races in Minnesota. He will treasure these! I will continue to watch your site, as I may wish to purchse another pair or two. My son loved the last pair I got, which was a birthday present to him. Thanks for mantaining this tradition! F.F...........Indiana
_ _ _ _ _ _ _ _ _ _
3/22/08 - My son is getting married and wants some skis to use to sign as a guest book. They will not be skiing on them but want them as ornamental. Do you have any that might fit the description? They need to be light brown - Please get back to me asap. They are getting married March 29. Yikes!
Linda...........Colorado
_ _ _ _ _ _ _ _ _ _
3/3/08 - Here's a photo of young Inga from the Lotvola Cup at Maplelag in Callaway, MN. She is wearing traditional Norwegian ski attire and using Splitkein wooden skis.
Photo by Jay Richards. Photo courtesy of www.skinnyski.com
_ _ _ _ _ _ _ _ _ _
2/1/08 - Hello! You have a nice site!

Do you know that we still make woodenskiis in Norway? I am the third generation who are working at Rønning Treski AS. Take a look at www.treski.no

Rønning Treski AS, Jonas Rønning, Norway
_ _ _ _ _ _ _ _ _ _
"I have acquired a pair of Jarvinen skis and poles made in Finland. The Jarvinen bindings were made in the German Democratic Republic. The skis are made of wood with synthetic tops and bases. The poles are bamboo. If someone can date these skis please notify me. The skis will go on display in the Koskela House Finnish Museum at Brantwood, in northern Wisconsin." Bill Hoffman...cyrilla@centurytel.net
_ _ _ _ _ _ _ _ _ _
1/24/08 - Greg, The skis arrived today and I am thrilled! Thank you for the great merchandise and service! .....Faith
_ _ _ _ _ _ _ _ _ _
12/10/07 - Looking for information on the best type of glue to use to repair lignostone edges. The side of my Normark VI lignostone edge sheared off while skiing in tall grass. The 1st foot or so the edge came off cleanly, followed by a 1" x 1/2" strip of the lignostone edge and the hickory bottoms. I notice that you've mentioned Gorrilla glue and 2 part epoxy. Which do you think would work best in this situation? Would a waterproof wood glue also be good in this situation? ....Michael
Michael, I would recommend a slow-setting two-part epoxy to repair your lignostone. I would not recommend waterproof wood glue.....Greg
12/2/07 - Nice web-site, however I assume that you just do Nordic.
Let me ask some alpine questions and see what you think. I have a pair of jumper skis marked - HOVDE-SKI, VIKERSUND, NORWAY. They are about 240 cm long and about 9 cm wide with 3 groves..........Do you have any comment on the above mentioned skis?.......Tom, Ashton, Idaho
Tom, It appears that Kristian Hovde was a Nordic combined skier after looking at this website; http://no.wikipedia.org/wiki/Vikersund_idrettsforening. Kristian won some medals for the 18 and 30km races. He won his medals from 1926 to 1932. Manufacturers typically named skis after medal winners right after they won the awards. I would guess that the skis are from 1930 + or -....Greg
_ _ _ _ _ _ _ _ _ _

11/18/07 - Greg,
My name is Tom and I met you a couple of years ago when you dropped some bindings off for me at my office. I am interested in buying a set of 215 or 220 cm skis. I also looked at the link you had to skis made in Sweden and I may buy a pair but they are definitely spendy. I have a buddy that has had a pair of 230 Tegsnas for many years and they are a riot to ski. I collected alot of stuff when I worked at old North Country Ski shop off of Hwy 94. I love looking at your website and am going to try and make it to your ski gathering in Duluth in March this year if I'm around.........Tom, Stillwater, Minnesota

_ _ _ _ _ _ _ _ _ _
11/3/07 - Greg,

The skis arrived yesterday and they look fantastic. Everything I could have hope for.
Thank you.............Dwain - Jasper, Alberta Canada
_ _ _ _ _ _ _ _ _ _
10/15/07 - Greg,
If you should know any people who'd like to take part in a real tough downhill race with their old wooden skis, then tell them that they should go to Leogang, Austria, from January 18th to 20th.
It would be nice to meet some "Holzfreunde" from overseas there.
Auf Wiederschreiben!
Hartmut
_ _ _ _ _ _ _ _ _ _
9/8/07 - Hi Greg,
The skis arrived today and are more beautiful than I could have imagined. My wife's birthday is soon (sic) so the timing is perfect. I'll let you know her reaction which I know will be surprise and joy. Trout season closes Sept 30th. It would be perfect if we got a snowstorm on Oct 1! Thanks again, Jim.......New York City
_ _ _ _ _ _ _ _ _ _
7/16/07 - Hi Greg,
Here is something I thought you might find interesting, even though we are not directly affected here in the United States. The August 2007 issue of Wooden Boat Magazine contains an article concerning the European Union banning the use of pine tar as a carcinigen. The ban would have had a significant effect in the Scandiavian countries where pine tar is used extensively as a protective coating for traditional wooden boats and for older buildings. The article did not mention skis, but that may just have been beyond the scope of the writer's interest. The ruling was protested by the Scandiavian countries and, after review, the EU temporarily lifted the ban until 2010.
It was an interesting article and talked about the economic history of pine tar as well as its chemical composition and use. Just thought you might like to check it out...........Steve, Albany, NY

Editor's Note: Check out the following links for more information.
http://www.woodenboat.com/wbmag/index.html
http://www.european-maritime-heritage.org/EMHsite/Projects/pinetar.htm
http://60north.asiakaslehti.fi/article?section=02&journal=1723185&article=2043235
_ _ _ _ _ _ _ _ _ _
6/9/07 - Greg, I [snip] ran across an article about removing epoxy screws from skis. they heated them first with an electric solder gun. I have always heard that epoxy breaks down with heat but never though it to be a good idea to try and heat up the screws with a propane torch. The electric [method] sounds like the ticket......Dan
_ _ _ _ _ _ _ _ _ _
2/25/07 - Hi, Greg;
For those who are wanting new boots, we found 75mm touring boots at Backcountry.com. They're based in Utah, and the boots were here (Antelope, near Sacramento, Ca) in two days. And, since we're finally getting some decent snow, we'll be out in it real quick! The scent of pine tar in the house is heavenly!
_ _ _ _ _ _ _ _ _ _
2/22/07 - Hi, Greg;
Just picked up the box from the post office, and WOW!!! Are they ever beautiful! I especially love the scent of pine tar, which reminds me of my "yut" With a little luck, we'll be taking them out this weekend to give them a try. Got a question, though: what would you recommend as a glue for reattaching the binding screws?
We've got to knit some socks to go with the outfits! Thanks for the great skis!!.....................Jerry G., Antelope, CA
Editor's Note: I do not recomment glue for the screws......Greg
_ _ _ _ _ _ _ _ _ _
1/31/07 - Hi Gregg, thanks for the advice on the bindings. I thought I'd report in
from Buxton in the English Peak District. We had 5 days or in my case 3
nights of snow here last week. So I tried out the wooden skis on the local golf-course in the dark The skis went well, they seemed to take the wax better than modern ones. As the skis are long and have sweepingly upturned tips I thought that I'd use them for riding over the heather and tussocks in the scanty snow cover we get round here. Well on the one day I got out on the hills (as opposed to the nights on the golf-course) there were plenty of tussocks not much snow and progress was more of a plod than a ride.
Perhaps the snow was just too soggy. Still it was fun if you didn't mind the raw wind, driving fog and general lack of visibility. Glad I had trying out the wooden skis as a project to give the outing some sort of purpose.
I have a horrible feeling that may be the end of our winter here......Andy, Buxton, England

_ _ _ _ _ _ _ _ _ _
1/9/07 - Greg, Thanks for the beautiful Madshus Birkebeiner skis and the boots and knicker socks. Hope to see you at Seeley Classic wood skis event, if and when it is held. It would be nice if someone could take a group photo of the wood class skiers at the event with their skis before the race.
Good luck in your Worldloppet events. I plan on taking a digital camera with me in the Norwegian Birkie event. I wish I would have carried a camera with me in the Swedish Vasaloppet. Some great panoramic views. I plan to stop and take a photo now and then........ Ken, Apple Valley, Minnesota

_ _ _ _ _ _ _ _ _ _
1/3/07 - I am on the Langlauf Ski Race Board and the winner of the Woods and Woolies division for the last 10 years and would like to add Langlauf to your list of ski events with a wood ski division. We end up with about 25 people competing in the wood ski division and would love to see more. Let me know if it is possible and what you need.
The race web site is www.spokanelanglauf.org Thanks.......Mike A., Spokane, WA
_ _ _ _ _ _ _ _ _ _
1/2/07 - Howdy Greg, et al at Wooden Skis. Delighted to find your website and check out all the other wooden ski enthusiasts. I have been looking at all the skis and have noticed that most pictures show 3-pin bindings (apparently the binding of choice). I use NNN-BC on my Asnes Tour Modell skis with great success, taking them to the 10th Mt. Hut system in Colorado every year- even use 'em pulling a sled on the easier climbs.
As long as conditions aren't too icy, they are wonderful skis. Just thought I might
mention the combination. Anyway, I hope to pick up another pair soon, as the 'ole Asnes are starting to wear out. Perhaps if I could find some lignostone..... Meanwhile, I keep spreading the word about the benefits of wooden skis, and I keep smiling at the comments I get on the trail about my "beautiful wood skis". Keep up the good work................. Jerry K., Benson, Arizona
_ _ _ _ _ _ _ _ _ _
12/24/06 - Hi Greg,
Great story and photo in the sports section today! Now I know where to get rid of my 1972 wooden skis....Norm, Northfield, MN
_ _ _ _ _ _ _ _ _ _
12/24/06 - Good Morning Greg, I just read the StarTribune article about your ski business. I look back on the past with fond memories also. While calling on my sporting goods customers selling them hunting and fishing equipment as a rep back then I met up with Jan Haug and we put together some suppliers from his homeland of Norway. I started introducing the stores to the sport and the first year sold 5,000 sets. From this part time effort we built a business named Janoy. I now live by Crosslake, MN and still have a few pair in the garage, including a couple of new pairs that have never been mounted.......Tom, Merrifield, MN
_ _ _ _ _ _ _ _ _ _

12/11/06 - Hi Greg. Very cool website! My dad and I were recently selected as the official Birkie Warriors this year. We have some good old wood skis, pine tar and swix polar, but I'm wondering if the newer iron-in glide waxes would work instead?
..........Mike Schaefer
Mike, Congratulations on your selection as a Birkie Warrior. That should be a very fun experience. I know that Jimmy Vandenbrook had a blast last year.

I've never tried using regular glide wax, but I know that some people have.....Greg
Click here to see American Birkebeiner press release about the Warriors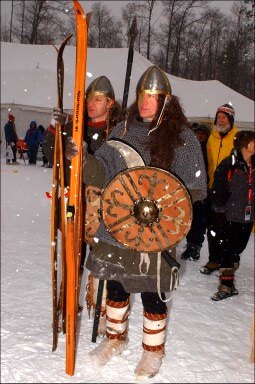 2006 American Birkie Warriors
_ _ _ _ _ _ _ _ _ _
11/26/06 - I have some wooden skiis that I sanded to bare wood and refinished with urethane. The urethane chipped and I don't think it's the right finish, so I'd like to refinish them again (tops and sides; the base has a plastic surface). I have two questions: What's the best paint remover for the chipped urethane? and What should I use for a new finish? (I have considered all pine tar, spar varnish or epoxy.) What do you think........P. Hoff

Editor's Reply: I'm not sure of the best way to remove the urathene.

For a finish, how about boiled linseed oil? I've used it with great success. You need to thin a little with turpentine, apply, then after about one hour wipe excess off and let dry. Another coat would work well........Greg
Thanks for the quick reply. Turns out sanding is the only thing that removes urethane (that and some patience!) The linseed oil is a good idea - it ought to repel the snow better than varnish or urethane. I tried some Watco oil that I've used in furniture finishing. Wow! They're gorgeous. The linseed oil will be great in maintaining a finish. Now I hope we get some snow. Good luck to you and enjoy your wooden ski moments......P. Hoff
_ _ _ _ _ _ _ _ _ _
11/12/06 - Hi Greg,

The attached photos show a Norwegian ski that I can't find anything about the brand or vintage. Not on your web site either.

Do you know anything about "Aplin L". I got these at a used sporting good store a few years ago................................. Larry W., Evergreen, CO
Editors Note: Can anyone help with this question? Alpin photo 1 - Alpin photo 2
_ _ _ _ _ _ _ _ _ _
11/11/06 - Hi Greg,
Wow, thanks for maintaining this cool website. I'm hoping you will be able to steer me in the right direction. I inherited my parent's 1970s wooden skis this summer and would like to repair them for use this winter.
I have two pairs made by Madshus with the model name "Birke Beiner." I don't think it will be difficult to strip the old tar off and recoat the base, but one of my Dad's skis is cracked longitudinally for about 6" of the tail. There are some numbers on the ski, 36-210 66837, which I think refer to the length and model. Do you have any suggestions for how I could attempt a repair (I have tools and a wood shop.) Also, I saw a picture of the skis that you have titled "the infamous Madshus Birke Beiner." I'm dying to know how they became infamous!
Cracked in Madison, Wisconsin...........Curtis B.
Curtis, I would try to spread the crack open a little bit with toothpicks or small wedges. Then apply "Gorilla Glue" as directed on the label, then clamp. The Madshus Birkebeiner skis were the "Cadillac" ski of its time and they fetch the highest price these days along with being the most sought after ski in the used wooden ski market...........Greg Fangel
_ _ _ _ _ _ _ _ _ _
11/8/06 - Hi there!
I can see your passion for wooden skiis, having said that,
are you able to tell me more about this ski? i don't see it in your manufacturer list.
it say, ARTIS my in Czekoslovakia
i can also send you a better pix so you can add it to your manufacturer list.
thanks in advance!..........S Rommel Tuason - Czech Republic

Editor's Note: Click Here to see the Artis ski.
_ _ _ _ _ _ _ _ _ _
10/6/06 - My husband found an old pair of ski's on a demolition site. They are wooden ski/leather straps and foot rests. They are both stamped with what appears to say 'Northland Ski Manufacturer. St. Paul Minn'. These words circle a picture of a moose. I would really appreciate it if anyone out there can tell me about Northland and possibly what these might be worth.
Thanks for your time..............Diane H. St Johnsbury VT
Diane, Northland Ski Manufacturing Company, formerly C.A. Lund Company of Hastings, Minnesota founded by Norwegian born C.A. Lund, began producing skis, toboggans, snowshoes and hockey sticks shortly after Lund's arrival from Norway. Lund's skis soon gained a widespread reputation for unsurpassed quality making Northland the largest manufacturer of skis in the world. Northland manufactured skis from the early 1900's until the 1950's........Greg
_ _ _ _ _ _ _ _ _ _
8/30/06 - Greg,
I just thought I'd let you know how pleased I was once I opened up the box of skis and poles I ordered from you last month. I am now in Moscow and I waited until I arrived here to break open the box. Great job on packing/padding the skis; they look really well cared for. Hard to beat the way wooden skis look!
It looks like the bottoms have been prepped with a sealant. I remember in the past applying a black liquid to the soles prior to each season. Swix made a one-part sealer (in a can) while somebody else made a two-part sealer (in bottles). Are either of these products still available? Does Aker's (out in Vermont or New Hampshire) carry anything like these products?
Lastly, do you recommend using a glue (like epoxy) to set the binding screws in with, or do you think the screws alone are sufficient?
Tom .......Moscow, Russia
Tom, I'm glad you like the skis. The bottoms are treated with pine tar. The two-part treatment you are speaking of is shown at www.woodenskis.com/ski_tools.htm. See the links to pine tar in the right-hand column on this webpage.I do not recommend using epoxy to set the screws. If your binding breaks, it will be impossible to get the screws out again. Screws alone work the best.....Greg
_ _ _ _ _ _ _ _ _ _
8/23/06 - Hello Wood N Skis!
I hope you can help me out with something.
I was offered for sale a beautiful pair of wooden skis (they appear to be fully unused and have no bindings). They still have the sticker from the shop who had them for sale originally. I contacted the shop and they told me that they have not sold wooden skis for at least 30 years.
I am trying to find out their age and value. Hopefully you can help me with this.

The manufacturer is Trysil-Knut and the skis are Tur-Langrenn.
Can you please assist?
Many thanks!!
Kind regards,........J. Spinder, Myrtleford - Melbourne, Australia
J, The only thing that I know about Trysil-Knut skis is that they are Norwegian, named after the region of Trysil. Trysil-Knut, was a character of saga, with unique qualities as a skier.
The skis are from the early 1970's and their value is dependant on where you sell them. If I had them in my stock, I could sell them for $150USD. You may be able to sell them on ebay.....Greg

_ _ _ _ _ _ _ _ _ _
7/13/06 - Hi, I've just been given a pair of bonna 1800 skis in good condition. Can I use them? Where can I find boots for them?
Thanks,
Lauri
"Lauri, Yes, you can use them. What type of bindings do they have? 3-pin?
Ebay seems to have the biggest selection of 3-pin, 75mm boots. You can also find new ones at Akers-Ski.com http://www.akers-ski.com 75mm refers to the width of the toe piece of the boot and that is the most common size"....Greg
_ _ _ _ _ _ _ _ _ _
4/9/06 - Hello,
I have studied your website on wooden skies with great interest and I have a question that I hope you could answer. You write on the FAQ that some wooden skis were manufactured with a P-Tex or ebonite coating on the base
eliminating the need for pine tar. I have an old pair of skies (my father's old unused ones) but he claims that tar must not be applied to these skis. However, I am not so certain about this, as he says that the base is made of normal hickory (and so it indeed apppears) and, as far I am as concerned, skis with a hickory base should be tared (am I right?).
One possibility could then be that the base of the skis is in fact coated with P-Tex or ebonite, but how can this be established? Another possibility is of course that he is/I am wrong...
Looking forward to hearing from you!
Best regards,
Johan Boucht.......Finland (Suomi)
"Johan, Pine tar was applied to the ski bases to protect the wood from moisture entering it. Ebonite or P-tex bases are black in color and appear to be plastic and artificial. A visual inspection is about the only way to tell if the skis are wooden or coated with ebonite or p-tex. Sometimes in the past, people put the pine tar on very thick which makes it appears to be an artificial base.
In my opinion, skis with a wooden base (hickory) should be pine tarred.
Hyvä menestys..............Greg"
_ _ _ _ _ _ _ _ _ _
3/23/06 - Thank you so much. I got the skis yesterday and they are PERFECT!! I think I will ski next year's Birkie with them. The camber is excelled, the bindings seem brand new, and I can't wait for next winter. Thanks again.
..................................Martin, Rochester, MN
_ _ _ _ _ _ _ _ _ _
3/19/06 - Greg -
Just want to let you know what a great day I had at the Rendezvous. Wonderful weather, track, organization, and camaraderie. Many thanks to you and all the other organizers!
Let me tell you that I had the BEST seat in the house for watching the race. For about 4.5 k, Chris Hegg and Dave Pramann put on a great show, dueling for the lead. I was sometimes right behind them, sometimes as much as thirty
yards back. But wherever I was, they were in a nip-and-tuck, all-out battle for the lead. Chris eventually pulled away; but for the first 18 minutes or so of the race, I was treated to a magnificent contest.
I've watched lots of races on videos, but there's nothing like an unobstructed "up-close, in living color" view of a hotly contested race.......D. Pederson.........St. Louis Park, MN
_ _ _ _ _ _ _ _ _ _
3/13/06 - I found out about you from the people at North House Folk School who I saw at Canoecopia in Madison this weekend.
I thought I was the only nut out there who revered wooden skis anymore. I thoroughly enjoyed scrolling through your web site. My wife and I have skis representing almost all the manufacturers you have listed and in multilple lengths. We use them regularly and only ski on plastic when it's above freezing. We started collecting in the mid 70's when it became clear that their availability would become limited with the passage of time. My son lives in Duluth and also skis regularly on wood to the dismay of the plastic and spandex crowd.
I have been concerned because we have only one plastic repair tip and 5 of us who ski. It worked fine when we were all together but now the kids are going their own way and I have been looking for more of these tips. Do you know of any for sale?
Stan.............Stoughton, WI
Stan: Akers' sells plastic repair tips. Go to www.akers-ski.com and type in "repair tip" into the "Search" box..........Greg
_ _ _ _ _ _ _ _ _ _
1/26/06 - Editor's Note: The following message comes from a skier that is building his own wooden skis from scratch.
Just a note to let you know that I have the wood cut and that I am in the process of sanding. After I am finished sanding to the correct thickness I'll attempt to bend the tips. I got a little carried away with the belt sander and took a little too much off in one area but I think it will be OK. Hopefully I'll have the bending completed this coming weekend! Every time I make some small imperfection I remind myself that 500 years ago someone was probably carving a set of skis using a primitive knife or tool made from a whale bone! I went to Menards to look for pine tar. They didn't have any but told me where to check. What ratio of pine tar to turpentine do you recommend?
I practiced bending a piece of wood. I put two coffee cans together (cut the bottom out of one and jammed it into the top of the other), filled it with boiling water and placed a piece of wood (covered with two old tube socks) in it. I covered the top of the can and wood with aluminum foil and let it soak for about 30 minutes. Then I bent it at the tip. I used a three inch diameter piece of PVC pipe to bend it around. I was working with a pine 2X4 that I had cut down to 3/8 inch thickness and it was easy to bend. I may have to soak the birch a little longer.
I still haven't decided how to bend the middle for the camber. I was thinking about wrapping the wood in a blanket; soak it with boiling water and wrapping aluminum foil around it to keep the heat trapped. Then after about 45 minutes, unwrap it and place the balance point of the ski on a piece of 1 1/2" diameter PVC pipe and place a weight on the ski at the front and back and let it set overnight. What a learning experience! I'll keep you posted on how things are going. Kenny
KENNETH J. VENNELL, Lt Col, IL ANG.........Springfield, IL
_ _ _ _ _ _ _ _ _ _ _
12/20/05 - We've had a record month of wooden ski sales. In the month of December so far, we've sold over 30 pair of wooden cross country skis! Recently the Three Rivers Park District from the Minneapolis, MN area purchased 14 pair for their new Nordic center being built at Elm Creek Park Reserve. When that lodge opens, look for a collage display of our skis and other historic ski related items. Elm Creek has snowmaking for cross country skiing and lights for night time trail use.......Greg Fangel, woodenskis.com
Elm Creek Nordic Center - Minneapolis, MN
_ _ _ _ _ _ _ _ _ _
12/19/05 - Anyone heard of "Latu"? I just discovered your site last month and am delighted with it! I've already referred several folks to it (every time I go out on my wooden skiis people admire them and ask where they might find information or buy a pair.)
I have a pair (and a spare) of the Bonna 2400's with the mid-section cracked steel edge that I use for trail-breaking and packing but my all-time favorite touring skiis are a pair made by a manufacturer (Latu) about whom I have never been able to find any information -- I'm hoping maybe posting this note will lead to some clues. I bought these skiis 12 years ago at a flea market for $15 dollars -- they are 195's and the seller also had an identical set of 210's (it broke my heart that I only had $20 with me and the seller refused to hold the second pair til I could come back.) Both had low-end Dovre 75mm bindings -- it was obvious that the 210's had been used once and the 195's not at all (I imagined a hopeful Christmas gift from a husband who never was able to convince his spouse to join him on the trails.) The skiis are very similar in appearance and dimensions to classic Birkebeiners: beautifully grained all-wood (hickory or birch?) with an oiled finish and lignostone edges. The markings are in black: "Latu" in Olde English font with a stylized stag head at the tip and "made in Norway" on the tails. I've upgraded them to Profil bindings and they are sublime to ski with -- superlight and quick with fantastic camber, the most wonderful skiis I've ever used (and I've owned and dumped a half-dozen pairs of synthetic skiis over 30 years of skiing.)
Anybody familiar with this mark? Anybody know where I could buy more like them? (I've googled and eBayed and they are nowhere to be found.) Some lucky person here in the Pittsburgh area bought those 210's -- I hope they didn't end up nailed over a fireplace somewhere.
Thanks,
Kerry Parslow
Pittsburgh, PA
c_kayak_fun@yahoo.com

_ _ _ _ _ _ _ _ _ _
12/18/05 - Hi ,
I have enjoyed your web site. I find it very interesting, informative and helpful. Thanks for the links to hook me up with Akers Ski for supplies such as pine tar (very nice people). I live near Ann Arbor, MI where its very hard to find even basic supplies such as hard waxes.
I am attaching some pictures of my Eiger skis, that I've noticed you don't have included on your manufacturers page. I guess I have used them for 25 - 30 years, and just had to repair the lignostone edges at the tails this year. Any info on the company would be welcomed.
I am also sending pictures or a pair of Normark II skis I found at a garage sale. unfortunately, they have no lignostone edges.
My wife is still skiing on her original Birkebeiners from the 1970's. I had to reglue the rear edges and tail laminations this season (1st ever repairs).
Thanks for your time and effort for the web site. I am going to try to make the Mancelona MI wooden ski event, but is very close to our Canada trip to Stokley Creek Lodge. (A great cross country lodge that probably deserves a link on your site)
Thanks, Dave........Ann Arbor, MI
_ _ _ _ _ _ _ _ _ _
12/12/05 - I have a excellent pair of Bonna 2400 without metal edges. My question is this, After skiing do you just scape off the kick wax of the day, if so do you use a little heat getting the wax off? I have a terrible time trying to clean them up after use......John, Otego, N.Y.
I typically just scrape the wax of the day off. I use a 3" metal putty knife and it works quite well. Care needs to be taken to avoid scratching the skis, but it's never been a problem. After scraping, use a cork to smooth the bottom, then apply your new wax of the day......Greg
_ _ _ _ _ _ _ _ _ _
12/12/05 - Hi Greg;
The skis arrived today;both pairs are beautiful! It doesn't even look like the Trolls have ever been skied before.
The bases and lignistone on both skiis are in much better
shape that I would have imagined even possible. I'm hoping for a fun winter. Haven't been on 3 pins in a looong time.
Thanks so very much for all of your help, and your
fast and friendly service!
I've already pointed other folks to your site, I think you are providing the world a good service, keeping these old treasures alive.
Keep up the good work,--Chipper...Sterling, VA
_ _ _ _ _ _ _ _ _ _
12/11/05 - Howdy -
I just found your site, and wanted to share this:I have three pair of Asnes wood skis from the 1970's, one of which has
never been drilled, two of which are brand new, and have used just one pair since then.

The point I want to make and share is that wood skis don't need anything on them, pine tar or wax, unless you are going really long distances. When there is snow, I ski an hour a day, and don't put anything on my skis, no matter what the temperature.
Once in a while I rub some olive oil into them (mineral oil is too heavy), and let it soak in overnight. The tails are starting to split on one pair, as they stood in water a few times too many and have lost the metal butt, but they still perform well. Synthetics are stiffer, need wax, not as good unless you
want to skate ski.This should encourage people to go back to wood, as it is much easier to control and much more convenient for recreational use.
Thanks,
Tim.......... St. Paul, Mn.
_ _ _ _ _ _ _ _ _ _
12/8/05 - I just discovered your website dedicated to the preservation of skiing on sticks, and it is awesome. Wish I knew of your site when I was figuring out how to prepare wooden bases etc.
Several years ago at a pawn shop I picked up a brand new (i.e. never drilled for bindings) set of old Head LTs (210 cm). Instead of mounting with traditional three-pins, I mounted them with the NNN backcountry bindings that I favor. They have lots of camber and are a little soft but VERY responsive and forgiving. They have become a favorite for the kind of backcountry, "trail" (i.e. simply on snowmachine tracks), and light telemarking that I do. They also perform well when I hit the groomed trails for some fast kick-and-glide and a little skating.
Your prices on Head LTs and other wooden skis are a bargain. Heads (albeit no steel edges) are every bit as good as the Fischer E99s etc that we gladly pay more than $200 for.
I'll be ordering a set of your bamboo poles to complete the package!
Thank you.
Pat.............Walkerville, Montana
_ _ _ _ _ _ _ _ _ _
12/3/05 - Hi,
I bought some pine tar at a saddle shop for a very good price. When I opened the can I found it was a paste in consistency. Is it too old or is this the way it comes? Can you apply to the ski as a paste? Or, what do you thin it with? I have tried mineral spirits and it does not seem to work......Bob
Bob, I've always had good luck with mineral spirits....Greg
Greg, I ended up warming the a can of pine tar and mineral spirits in a pan of warm water and it finally mixed together well. Ends up being about 1/5 the cost of a can of Swix...Bob
_ _ _ _ _ _ _ _ _ _
11/24/05 - Hi,
Great site for those of us who enjoy the charm of wooden skis! I recently picked up a second set of wooden skis (Splitkein) made in Norway which have a MM-Karhu binding made in Finland.They are a four pin binding system.Where can I find a boot to match the binding? I have thought about switching to a 75mm three pin system if the other boots are hard to find. Any comments on that idea?
Thanks again for such a great site.

Keith............New Hampshire

Keith, The 4-pin bindings are out-of-date and boots are impossible to find for those. I have a pair of 6-pin bindings mounted on cross country skis from the late 1940's.
I recommend switching to 3-pin, 75mm bindings....Greg
_ _ _ _ _ _ _ _ _ _
9/24/04 - Greg, received the skis. They look fantastic... Can't wait to mount them up... now all we need now is snow!! Thanks!!....S. Gantert
_ _ _ _ _ _ _ _ _ _
9/13/05 - Hi there,
I was just wondering if you knew of any places in Sweden or Norway where you can take a course to make your own wooden skis? I know there is the place in Minnesota but I can't find anything on the web about being able to do such a course in Europe.
If you have any contacts in Europe that may be able to point me in the right direction I would really appreciate it, I am based in the UK so getting to the States for such a thing would be a bit too expensive!!
Thanks, Chris
_ _ _ _ _ _ _ _ _ _
9/13/05 - Hello I had a question on your 210 skis for sale. In the characteristic outline, it says no for lignastone edges for some of the skis. Are the edges metal or none at all? Also if the the skis contain Lignastone edges, do they support icy conditions for downhill turns?
Thanks,
Rich SGT USMC
Rich, the skis with no lignostone edges typically have a hickory veneer base with wooden sides. The lignostone edged skis may work in some icy conditions, but not all. Their intent is to prevent wear and tear and not for skiing performance...Greg
_ _ _ _ _ _ _ _ _ _
8/27/05 - Hello,
This is just a short note to tell you how much I appreciate your website. Having been affiliated with Nordic Ski Imports in St.Paul, MN during the early seventies I must tell you that Madshus did not make Troll skis.
Troll was a startup company by Lief Loseth, ex production manager for Madshus. The company was located in the town of Rindal, Norway.
Nordic Ski Imports was an importer of Madshus, but lost the line in 1970 to a new Norwegian consortium called Ski Lom .. Madshus then produced Ski Lom skis distrubted by Anderson/Thompson of Seattle.
The likenes of Troll and Madshus were the result of Mr. Loseth. Nordic Ski Imports was the original importer of Troll skis and was finally acquired by Normark in the mid seventies.
There was also another ski factory in Rindal called Landsem.

Keep up the good work,
Rod Hanson
_ _ _ _ _ _ _ _ _ _
4/10/05 - Dear Mr. Fangel,
Wow! I am so thrilled to find my father's Janoy skis in today's St. Paul Pioneer Press! You see, he started the company, having the skis made in Norway, manufactured with his company name on them, Janoy. His name was Jan (Norwegian, because he was from Norway) E. Haug. His business partner who knew nothing about the ski industry or the sport, was Floyd Hedding. They put their names together to form "Janoy", when I was about 14, back in the early 1970's.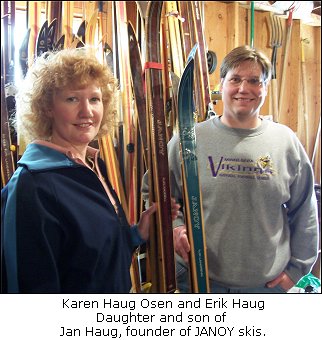 Floyd provided financial backing for the business venture, but retained his full time job at an electrical manufacturing plant in MPLS, while my dad quit his job at the same company to follow his dreams. Skiing was my father's passion, and he did everything possible to promote xc skiing here in the U.S. He did not get rich by eating, living, and breathing xc skiing. But he sure got a lot of people hooked on it, as the folks at FinnSisu will tell you, one of his best local customers. I remember him spending a lot of time promoting ski trails in county parks. He helped establish French Park in Plymouth. He even made tracks in the snow with a primitive wood block he built and dragged behind him on a rope, with us kids following along behind.
After Janoy went out of business, Jan went on to sell Edsbyn skis (his middle name was Edward), which my husband and I still ski on. Being more recent, we come across Edsbyn skis more often then Janoy skis.
Jan died suddenly at the age of 56 of an enlarged heart, in 1988 (just when L.L. Bean signed a contract to purchase Edsbyn skis). None of us knew enough about his business to take it over. Two years later, we four surviving children helped our mother move from our four bedroom house in Plymouth, to a town home. The youngest of us was 20 by then. In doing so, multiple garage sales were held and at least a dozen pairs of skis were sold. We didn't realize how much we'd miss Janoy skis, especially to feel connected to our dad in his absence.
Thus, I must buy a pair of Janoy skis from you. I don't even know what kind or size right now. I'm just so excited about your business (or hobby?) that I had to email you right away. I will also tell my avid ski fan brother about this discovery today. He may feel the same way I do and contact you himself. I'll probably want a pair to use myself, just for light touring. Perhaps you can suggest a pair?
Thank you so much for keeping alive the heritage and culture of wooden skis! Also for reading this long personal story.
Sincerely,
Karen Haug Osen - Minneapolis, MN USA
_ _ _ _ _ _ _ _ _ _
4/10/05 - Hi Greg,
I bought by Madshus skis in the 1970s when cross country skiing was first being written about in Minnesota, and they are still the skis that I use for breaking trail as they are so stable (wider). And they go up hills better than any fiberglass skis in my opinion! We live on Turtle Lake just west of you, and when there is enough snow on the lake, they are great for getting out there for some fun!
Bette Larson ...Turtle Lake, WI
_ _ _ _ _ _ _ _ _ _
3/21/05 - Only discovered woodenskis.com today, despite skiing on wooden skis, and nothing but wooden skis, for over 30 years. Just a few weeks ago, I was given a pair of Bonna Fjellskis, 220 cm with full metal edges and the old style Silvretta cable mountaineering bindings, which were the model used by the late Paul Ramer which he modified to become the U.S. Army Ramer bindings issue at least until the early 1990s. I also own a pair of Bonna 2400s, a pair with "Head" brand label, but which say made in Norway (any thoughts on the true manufacturer?), and some Swiss Army surplus mountaineering skis---full wooden core but with plastic base including fittings for special skins, and recently discarded old pair of Edsbyns (don't see that brand mentioned in your info) because of delamination and damage.

Regarding wooden ski waterproofing and base waxing---Although I still possess a quart-size can of pine tar somewhere in my cellar, for the past several years I've been using only boiled linseed oil on my wooden bases. This is a durable and penetrating wood waterproofer and sealer, and of course needs no burning in or heating at all, but I always leave them set at least overnight at room temperature to insure adequate penetration and drying. Much less messy than pine tar, and no torches to mess with. Seems to work OK, but I'm not really a glide or kick wax fanatic---I wax rarely, since I'm not into any type of competition, just recreational touring. Ever heard of anyone else doing this; any thoughts?

I've found no information on the www about the Bonna Fjellskis---do you know what years they were made?

Michael Schuttenbert ........mschuttenberg@yahoo.com
_ _ _ _ _ _ _ _ _ _
3/20/05 - Greg, Thanks for the comments about my skis. I hope you will be pleased with them. I've been doing all the ski restoration for the new Elf Engen Ski Museum in Park City at Olympic Park. During the Olympics, Norway brought in a replicas pair of Sondre Norhem's skis with the root bindings, skis from 1845. I also build that binding but not too many people know what it's all about. They let me take photos and measurements. I've been to your site numerous time because I'm soooo interested in antique skis and the history of them. I live in Ohio in the summer and here in Utah in the winter. Ski 5 days a week at Alta and Snowbird. Now at 70 years of age, I'm trying to learn to telemark. Tough. I can get down OK but getting back up is another matter. Keep in touch.

Regards. Bob Yerman

Editor's Note: See Bob's website of reproduction telemark and downhill skis at the Wasatch Lightning Ski Company
_ _ _ _ _ _ _ _ _ _
3/5/05 - Dear Sirs
Please excuse this imposition on your time, but I would be extremely grateful if you could spare the time to read this note and to consider replying with some advice.
I am in my seventies and have an old pair of skis which were given to me very many years ago. I describe them as follows.
Clearly they are cross country wooden skis. Seit 1900 1.95 in length by 80 width Labelled Schick Ski Seller's label states Sporthaus Pinget Gottingen Gronestr The bindings have the printed name of Kandahar on them and have leather holding straps for the feet. The Ski poles are bamboo also with leather straps and snow depth restraints also with leather. On the reverse of each Ski is a carved number 54741. Could this be an issue number for military use to soldiers?

Very many thanks for any help you can provide and possible present day value. The skis are not cracked and appear to have had some, but not a lot of use.
I am not sure to where I am forwarding this e mail. I will of course be willing to telephone you if you prefer, and if you will kindly notify me of your telephone number and the best time to contact you. Thanks again.

Yours sincerely. Derrick Lovering......... Somerset, UK.
Editor's Note: Derrick,
Seit 1900 means "since 1900" in German. It appears that these skis are German made. "Schick Ski" means "Elegant Ski" in German. Gottingen is a city in Germany. 80mm is very wide for a pair of skis. Sporthaus tells me that it was probably a sports shop or store that sold the skis. The leather snow stops on the bottom of the ski poles tells me that the poles are probably from the 1940's. The best place to see how much the skis are worth is to check www.ebay.com
The number on the skis is an arbitrary number used to match pairs in production.
Best Regards.
Greg Fangel - woodenskis.com
_ _ _ _ _ _ _ _ _ _
3/2/05 - While surfing the Internet I came across your site. I am an avid cross country skier, and remember that when I was a kid in the early 70's my father purchased a pair of wood skis. I think the name is ACTRA XC but I'm unsure. As I recall, they are made in Poland, have a hickory base and are very long! I think his are 210's. As a teen, I remember applying pine tar to them and carefully maneouvring them through doorways. From what i remember they were not so unusual here in the Laurentians, just north of Montreal, Canada.

I recognize many of the wood skis on your site -- especially the SKILOMs. I had a brand called Sundin, which was sold in departement and hardware stores in the 70's. They were from Sweden, and I think, a single piece of wood.

Anyways, just thought I'd mention this stuff, and would be glad to hear if you've ever heard of any of these brands.

We are having a fine season here in Quebec, tough I must say, I have definitely seen the effects of global warming. There's less accumulated snow in the forest, and I think the next generation of cross country skiers will be probably sking on man made snow by the time they are adults.

With best regards,
Marc Banik
Montreal, Canada
_ _ _ _ _ _ _ _ _ _
2/22/05 - Thanks for your site. I am going to try my first wooden ski race here in Homer, Alaska and I needed to learn more about my equipment....Jack and Nancy Allen
_ _ _ _ _ _ _ _ _ _
2/13/05 - FYI, two articles about building cross-country skis that were published in Fine Wood Working Magazine are avalible in a book called Fine Wood Working on Bending Wood. This is avalible from Taunton Press. The first article is Cross-Country Skis, the Easy Way by George Mustoe, and, indeed, it is an easy way. Had I not shaped the tips wrong on my first attempt, I would have finished in about 8 hours of total working time, and that includes building a more complicated jig vs. the one that appeared in the magazine. The second article is Cross-Country Skis, Norwegian Style by Richard Starr. This article seems slightly more complicated, but still do-able for a woodworker with even moderate skill.
My only recommendation on the skis that I built vs. the book is to cut the groove into the ski before you laminate the parts together. This will make for a much easier job, and instead of using two 1/4" pieces for the core, I would use one 1/2" piece of eastern white or western red cedar. This wood bends fine without steaming when it is bent only as much as is needed for a cross country ski.
Hopefully, I will have these ready to go by next weekend, so I can get out on them. I'm also trying a homemade binding that will allow me to use my mountaineer leather boots on these skis.
Enjoy,
Bryan Hansel
Grand Marais, Minnesota
www.bryanhansel.com
www.nessmuking.com
_ _ _ _ _ _ _ _ _ _
2/5/05 - We are very happy with the skis! We have already used them several times. Carol is extremely pleased! Hope to do more business in the future with
you...........Brian......Meadville, PA
_ _ _ _ _ _ _ _ _ _
1/26/05 - Greg, Just letting you know that I received the skis in fine shape. Pretty darn nice looking skis. Don't know their age but must be at least 30 years, maybe much more.
Waxed the skis and tried them out today. Our snow is terrible, 39 degrees here yesterday and 20 today. So the snow had an ice crust on it. But the skis felt great and I didn't mind the slogging through the crust. I noticed that they were a lot more stable than my Karhu's or Skilom. My ankle didn't slip to the side as they would with the narrower skis. This is all backcountry, on some old trails and new trails that I made today, not groomed.
Thank you very much......Duane....Wisconsin Rapids, WI
_ _ _ _ _ _ _ _ _ _
1/26/05 - I just want to let you know that I purchased a set of old MARK IV skis from you back in November and I recently had a chance to use them- It was best cross country ski I had ever had. Wooden skis are great! Thanks for a great pair of skis.......Michael..........Fishers,Indiana
_ _ _ _ _ _ _ _ _ _
1/25/05 - Many thanks Greg,
I will try to make my skis as new :)
For some reason it is difficult to find pine tree tar in Finland ... the
person from the shop tell me that they have tar for boats and that could
be a good substitute for it ?
Shall I try with boat tar ?
Best regards from Finland,
Alexandre Rouffiange
Editor's Note: Boat tar or pine tar used on the hooves of horses also works. You may need to thin it a bit with mineral spirits or some type of solvent.
_ _ _ _ _ _ _ _ _ _
1/24/05 - HI there:
I'm e-mailing you from snowy Nova Scotia and I'm on the hunt for some good solid wooden touring skis. A number of my family members have older thick wide wooden skis and that is what I am looking for. I presently have a thinner, shorter pair of wooden skis and my boy friend has a great pair of 200cm Toppen Tur-ski; so I am either looking for a thicker pair for myself (200cm), or steal my boy friend's and replace them with a nice shiney new (to us) pair for him (210 - 215cm)..........
Any help you can provide would be great..........Becky
_ _ _ _ _ _ _ _ _ _
1/16/05 - I have 1 splitkien bass and 1 Landsem type skis. I would like to match either one or both of these orphan skis with a match. Is this a service that you provide ? I got your address out of the latest newsweek. I love skiing on my old pair of Kongsberg skiis here in central Idaho. Thanks for your time............ A. Troutner
Editor's Note: Yes, we have a few orphan skis. And yes, we were mentioned in Newsweek magazine in the January 21st. issue.
_ _ _ _ _ _ _ _ _ _

1/15/05 - The Bonna's are great. I decided I'd like to get another pair of skis so everyone in the family has a pair of wooden skis......J Walden, Madison, WI
_ _ _ _ _ _ _ _ _ _
1/14/05 - I've been skiing on long Bonna 2400's with a metal edge for decades. I am looking for am excellent pair of the same?

Thank you very much. There's nothing like a wooden ski! Your web site is terrific! .........M. Stacey
_ _ _ _ _ _ _ _ _ _
1/11/05 - HI. I thought that I would drop you a line to let you know how glad I am to have found your site. I have been a wooden ski enthusiast since day one. I have owned and raced some plastic skis but have always had at least one pair of wooden skis. My wife has a pair too.
I have a quick question. I know that there was a ski that used a mohair strip in the kick zone. Do you have any? I would need a 215 or stiff 210. I have also thought about modifying a pair. I have thought that a person could route a groove into the base and then install a strip? Now where do I find the mohair? I know that climbing skins are made from that stuff but I can't see my way clear to destroy a $100 pair of skins for a couple of strips.
You may wonder why I am looking for a waxless ski? I live on the west side of the Cascades in Washington state and the last few years have not had very low temperatures and it makes waxing a somewhat frustrating ordeal. That's it for now and I might like to buy a set of your 215 soon, so I will get back to you....Robert F.
P.S. We also shoot wooden bows, fish with bamboo fly rods, kayak in skin-on frame boats, ride steel bike and take pictures with real live manual rangefinder cameras. We live a sort of retro life style and I have lived for several years in a cabin with no electricity.
_ _ _ _ _ _ _ _ _ _
1/10/05 - I have just found your site on the internet and am hoping you may be just the people to help me! I am contacting you from Keo Films in London. We have been commissioned to make a 6 x 1 hour documentary series by the BBC, National Geographic and the History Channel (US) about the historic expeditions made to the South Pole by Scott and Amundsen in 1911/12. Filming will take place in April, June and July 2005, and will mostly occur in Greenland....................Editor's Note: Stay tuned!
_ _ _ _ _ _ _ _ _ _
11/4/04 - The birch skis you sent are great... can't wait to use them. We're suppose to get some snow but it probably won't last. I'm looking for a pair of old cable style cross country bindings. I have another pair of wooden skis and would like to put those on the skis... if not do you have any old 75mm 3 pin types? thanks for your help...
Jim .......... Jay, Maine
Editor's Note: Yes, we have some cable bindings and plenty of used and new 75mm bindings......
10/26/04 - I just wanted to let you know, in case you did not already, that Neptune Mountaineering in Boulder, Colorado sells leather 75mm boots, wooden Norwegian army skis, pine tar, and kick wax specifically for pine tarred wooden skis. In addition to the museum pieces he has all over the wall it is definitely worth a visit to check out the ski selection.
Michael S.
_ _ _ _ _ _ _ _ _ _
9/21/04 - Thank you so much for all of your help with these skis. I have been looking all over for good wooden skis to buy, and you had exactly what I wanted. Thank you again for being so helpful in the process of this purchase.
Christian.....Spencerport, NY
9/22/04 - I'd like to thank you for all of your help in sending the skis to our son, Christian. He has been so up for this and was thrilled to come home to them today. Because you care about maintaining the tradition of wooden skis, I thought you'd want to know that you've helped keep that passion alive in Christian. He's grown up skiing on his grandmother's wooden skis, but went through a huge teenager growth spurt last winter and realized he just couldn't use his favorites any longer. So began the search for the right pair of skis. The area ski shops smirked and told him to give up on wooden skis. But he is a 15 year old purist :-) and I'm
so glad he found your company. We'll be sure to do business with you again.
Thanks again,
Kym.....Spencerport, NY
_ _ _ _ _ _ _ _ _ _